Quality heating and cooling services since 1950
Your Experts in Air Conditioner Replacement in St. Louis
Galmiche & Sons offers air conditioner replacement services for residential homes and commercial businesses across the St. Louis area. We can replace broken air conditioning units that do not work anymore or that would be too costly to repair as well as replace your old, outdated air conditioning unit with a more efficient one that will save you money on your utility bills. We will help you weigh the costs of repairing an old air conditioning unit over new air conditioner cost, and help you determine which solution is the most cost effective for you.
If you have an old or non-working air conditioning unit and you need an air conditioner replacement in St. Louis, contact Galmiche & Sons Heating & Cooling today. Our service and repair professionals can come to you and evaluate your broken air conditioning unit. We will show you the cost of repair versus replacing the old unit, and offer air conditioner replacement with a more efficient air conditioner unit that will save you money in operating costs. To learn more about our air conditioning replacement services for your home or business, contact our heating & air conditioning professionals by phone at 314-993-1110 or use our online contact page to request a free quote today.
When Is It Time for Air Conditioner Replacement?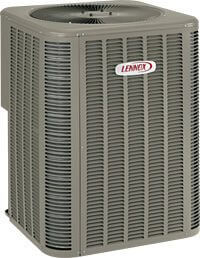 Air conditioning units that are several years old typically become less efficient at cooling and can end up costing you a lot more in operating costs than air conditioner replacement. All air conditioners are charged with some type of refrigeration chemical or coolant such as Freon or what is known as R-12 refrigerant. Over time, this refrigerant dissipates in the cooling unit and the unit becomes less efficient causing it to run longer than it should or even run constantly without doing its job of cooling and shutting down.
You may notice that the air coming from your air conditioning unit is not as cold as it once was. This is a good indication that the refrigerant has dissipated from the unit itself. Some air conditioning units can be recharged, but some older units cannot because the older type refrigerant R-12 was replaced by R-134 type Freon. These two types of Freon or coolant cannot be mixed together. The old air conditioning unit would need to be completely retrofitted for the newer coolant if the unit cab is to be serviced or recharged. In other cases, some air conditioning units are completely sealed and it is not cost efficient to perform this type of service. In both of these cases, air conditioner replacement will likely be your best choice.
Another time when you need air conditioner replacement includes when one or several major parts of your air conditioner break. Often when this happens on older units, the best option is to replace the unit with a newer model.
Contact Galmiche & Sons for an Air Conditioner Replacement Quote Today
If you think that you may need an air conditioner replacement then contact us at Galmiche & Sons Heating & Cooling today and one of our professional heating & air conditioning service and installation technicians can come to you, examine your old air conditioning unit, and explain the benefits of replacing the unit with a more efficient model instead of wasting money on costly air conditioning repairs. If repairs can be made we will provide a cost analysis to show you the costs of repairing vs. replacing your unit. Give us a call today at 314-993-1110 to learn more and get a free quote on air conditioner replacement today.