Quality heating and cooling services since 1950
Air Conditioner Sizing: Buying the Right Size Air Conditioner for Your Comfort
Keeping you comfortable in your home or office greatly depends on air conditioner sizing. Air conditioner sizing plays a large role in ensuring effective cooling for your home or office on a hot summer day. Additionally, proper air conditioner sizing not only keeps you comfortable but also makes sure that energy is not wasted by maximizing cooling efficiency.
Galmiche and Sons are experts when it comes to air conditioner sizing. Whether you need a new air conditioning unit for your home or for a large office or commercial space, we can help. Learn more about air conditioner sizing and find the right unit for your needs by contacting our heating & air conditioning professionals online or by phone at 314-993-1110.
Our Approach to Air Conditioner Sizing
The fundamental concept behind air conditioner sizing is to determine the best size air conditioner to cool a space without wasting money on a unit that is too large. Air conditioner sizing is very important in ensuring proper performance and comfort from your air conditioner. However, most people do not understand the importance of air conditioner sizing. As a result, they may end up with a unit that is too large or too small for a space. Either way, you can experience not just inadequate cooling, but also high energy bills due to the lack of efficiency.
There are several factors that need to be considered when it comes to air conditioner sizing, and our professionals understand all of these elements. We consider factors such as the temperature difference between the ambient temperature outside and the comfort zone temperature that you desire, the type of materials used in constructing your home or office, the surface area of your walls, and additional factors that affect ventilation and air movement such as the placement of doors and windows.
Air Conditioner Sizing Methods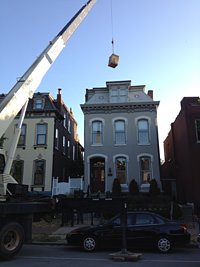 Air conditioner sizing is not just about evaluating the construction material and door gaps. While these factors do contribute significantly to the air conditioner sizing, there are many other complex technical details to be considered to make sure that you get the most out of your air conditioner.
One of the most common methods use for air conditioner sizing is the square feet method. This is a popular method used frequently by building contractors to arbitrarily determine cooling requirements for a building. This method greatly relies on previously recorded data and square footage measurements. This method is popularly used when installing window air conditioners, portable air conditioners, and home air conditioners.
For complex needs, such as air conditioner sizing for office spaces and malls, we utilize specialized methods such as the Manual J method. This method makes use of the manual that is developed by the Air Conditioning Contractors of America (ACCA), which provides critical details on the heat gain and loss factors in a building. For even more complex jobs, we may recommend the use of psychrometric, duct sizing charts or a combination of the Manual J method along with the duct charts.
Consequences of Improper Air Conditioner Sizing
The first and the most important issue you need to consider when it comes to improper air conditioner sizing is the energy utilization. An air conditioner that is not quite powerful enough will lead to ineffective cooling and will increase the energy consumption as the air conditioner will have to run constantly to keep your home cool. This not only increases your energy bills but also deteriorates the life of your air conditioner.
On the other hand, if you purchase an air conditioner that is too powerful for your requirements, it will cool your home too quickly. This means that the air conditioner will not complete its cycles properly. The cycles will be too short, and as a result, the air conditioner will not be able to fully dehumidify your home. In addition to this, since the air conditioner runs on shorter cycles, it will consume more energy and the compressor life will also decrease drastically.
The bottom line is that improper air conditioner sizing increases energy utilization and decreases the life of the air conditioning unit. To learn more about determining the proper size of air conditioning units contact us today.
For Expert Air Conditioner Sizing Leave it to the Professionals
No matter what your cooling needs are, our professionals at Galmiche and Sons can deliver top-notch professional service and make sure that you get the most out of your air conditioning units. Contact our HVAC experts today for air conditioner sizing for your cooling requirements or request a quote for a new HVAC system by completing our online quote request form.