Quality heating and cooling services since 1950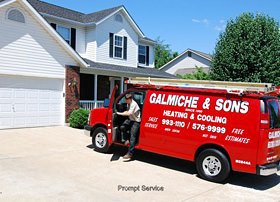 Air Conditioner Repair in the St. Louis Area
As a leading air conditioner repair company serving the St. Louis area, we offer a wide variety of heating and cooling services to both residential and commercial customers throughout the area. From air conditioner system repair to new system design and installation, we are your number one source for all air conditioner repair and HVAC services in the area.
We offer air conditioner repair services throughout the greater St. Louis area including:
To learn more about our St. Louis air conditioner repair services, contact us by phone at 314-993-1110 or schedule an appointment for HVAC maintenance or service online.