Quality heating and cooling services since 1950
Expert Air Conditioner Servicing for Your Home and Business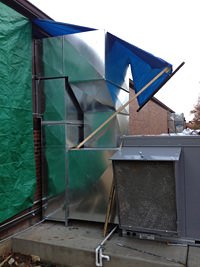 Air conditioner servicing is something that some people do not consider a necessity. However, this is far from being true. An air conditioning unit is comprised of a large number of moving parts that can become dirty or wear out over time. Therefore, just like your car needs regular maintenance, so does your air conditioner unit. This not only ensures a long life for your air conditioning unit but also helps manage air conditioner costs by making sure that your energy bills do not shoot up due to reduced efficiency.
Here is where Galmiche and Sons comes in – we have the expertise and experience handling the air conditioner repair and servicing needs of St. Louis homes and businesses. We can service and maintain most types of air conditioners from many popular air conditioning manufacturers. To learn more about our air conditioner servicing and maintenance, contact our heating & air conditioning company online or by phone at 314-993-1110.
Why Choose Our Air Conditioner Servicing & Maintenance
An air conditioner is a complex mechanical system, and as a result, it is susceptible to mechanical breakdown over time. However, this breakdown might not be visible to the average homeowner. Many homeowners often complain that their air conditioner does not provide effective cooling while consuming a large amount of energy. The problem here is typically a lack of proper air conditioner servicing.
Many times a simple part replacement or air conditioner tune up is enough to restore full functionality of your air conditioning system and restore the efficiency of your unit. With this approach, instead of leaving the unit until it breaks down completely, you can see a number of benefits. For example, regular maintenance does not cost as much as an extensive repair and it can even prolong the life of your unit. Therefore, it is in your best interest to get professional air conditioner servicing at scheduled times during the year.
With over 60 years of experience in the HVAC industry, we are familiar with more than just the nuts and bolts of air conditioner servicing. Get in touch with us to learn more about the benefits of scheduled servicing for your air conditioning units.
What to Expect from Our Air Conditioner Servicing
While air conditioner maintenance requires checking and cleaning all parts of the unit, in most cases air conditioner servicing largely revolves around checking and repairing two important areas of the cooling unit. These are the condenser and the evaporator, which are the parts prone to frequent damage. Regular air conditioner maintenance can extend the life of these parts while also making sure that your indoor living space is comfortable.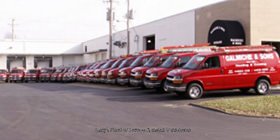 In addition to checking these core parts, a routine air conditioner servicing procedure may also include filter and coolant replacement. Air conditioning filters generally become clogged over time and must be replaced to ensure proper airflow. Additionally, the coolant can leak slowly over time. This coolant not only absorbs the heat but is also designed to lubricate the mechanical parts of the air conditioner appropriately. A coolant breakdown not only causes ineffective cooling but also leads to ineffective lubrication that can eventually result in a costly mechanical breakdown. Timely air conditioner servicing can identify these potential issues and prevent major problems.
It is most often recommended to schedule air conditioner servicing once each year, right before summer, to make sure that your home remains cool throughout the hot summer. In some cases, we also recommend that this be followed up with a regular quarterly cleaning. The required frequency for air conditioner servicing will typically vary depending upon how much you use your air conditioner. Therefore, our professionals will evaluate your needs and requirements in order to provide you with an air conditioner servicing plan customized to your needs.
Contact Galmiche and Sons for Scheduled Air Conditioner Servicing
When you trust Galmiche and Sons for your air conditioning service and repair needs, you can rest assured that your cooling needs will be met throughout the year. Our professionals are fully equipped to handle all types of air conditioning units and to perform all types of repairs and maintenance. We also offer professional air conditioner replacement for old, out-dated units. Therefore, we can keep your homes and businesses cool and comfortable. To learn more about our air conditioner servicing, request an HVAC maintenance or service quote online or by phone at 314-993-1110.