Quality heating and cooling services since 1950
HVAC Company in St. Louis: Choose Galmiche & Sons for All Your HVAC Needs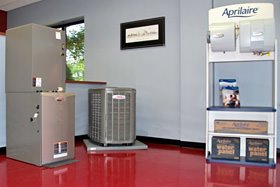 Galmiche & Sons having been in the HVAC business for over 60 years provides comprehensive HVAC services for both residential and commercial facilities all over the Greater St. Louis area. Drawing from the expertise and dedicated passion of our employees, we have successfully completed many commercial and residential projects for customers over the years as a trusted HVAC contractor. Our commercial HVAC design and build projects have ranged from small to medium size projects costing $10,000 to $750,000. For residential customers, we can install equipment in new construction, replace existing equipment, and handle heating and air conditioner maintenance and repair projects.
Call our heating & air conditioning experts today for all of your air conditioner repair, replacement, and remodeling requirements.
Commercial HVAC Services Provided by Galmiche & Sons
Your search for efficient, diligent, and economical commercial HVAC service ends with Galmiche & Sons. As one of St. Louis' most experienced commercial HVAC companies, we provide the following services in the commercial heating and cooling domain:
HVAC Design/Build Services for New Construction with our own on Staff Engineer
Sheet Metal and Ductwork Fabrication and Design
Service and Repair of Equipment from All Makes and Models
Replacement of Existing Equipment
Existing System Retrofitting
While we offer a complete range of commercial HVAC services, designing and creating HVAC fittings for new commercial construction projects have been the forte of Galmiche & Sons since we entered the St. Louis heating and cooling business many years ago. When you choose our HVAC contractors for HVAC system design, our technicians will ensure that your work is done right the first time. This will eliminate the need for future repair costs linked to faulty or improper installation.
At Galmiche & Sons, we provide you the guarantee that your installations, HVAC repair work, replacements, and retrofitting will be done under the HVAC best practices guidelines. We understand the value of your time and money and are committed to getting the job done in a professional and economical way.
Residential HVAC Services Provided by Galmiche & Sons
The heating and cooling design and build team at Galmiche & Sons is equipped with all skills and tools necessary to provide end-to-end heating & cooling solutions for residential properties. We can undertake the designing, engineering, and construction of small and medium sized HVAC systems, including new constructions and remodeling projects. We can also offer replacement, maintenance, and repair services for existing furnaces and air conditioners. Contact us for any HVAC requirements including:
New Construction HVAC Design/Build
HVAC System Replacement
HVAC System Retrofitting
Service/Repair of all Makes and Models 24 Hours a Day
Extended Warranties
Free in Home Estimates
Indoor Air Quality Products
As a leading HVAC company in the St. Louis area, we have the resources to work on or repair for any brand of HVAC equipment that you may have. We can also supply a full line of residential HVAC equipment including Lennox air conditioners and Goodman furnaces for timely and prompt installation service.
Tips from Our HVAC Experts
Call Us Today for HVAC Services in St. Louis
All our technicians are factory trained and extensively follow the tradition of delivering nothing but excellence, something that Galmiche & Sons is very proud of. Our technicians are EPA certified and trained and can handle any HVAC work, from air conditioner sizing to installation, repair, and servicing. We can also design HVAC systems from ground-up for newly built homes and commercial properties.
Contact us online or by phone at 314-993-1110 to learn more about the premium heating and cooling services that we can offer to clients in the Greater St. Louis metropolitan area.