Quality heating and cooling services since 1950
Leading HVAC Company in Greater St. Louis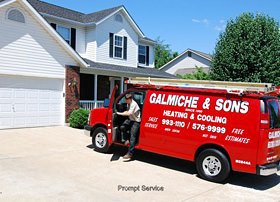 Galmiche & Sons Inc. is an HVAC company serving the heating and air conditioning needs of homes and businesses in the Greater St. Louis metropolitan area. For over 60 years, we have provided reliable HVAC solutions aimed at preserving and enhancing indoor air quality. As a leading HVAC company, we are proud to have grown in leaps and bounds from our first years as a small company back in the 1950's. Located in Maryland Heights, MO, Galmiche & Sons is a member of the Better Business Bureau, St. Louis Apartment Association, Home Builders Association, Local #36 Sheet Metal Workers, and Local #2 Operating Engineers.
To learn more about our St. Louis heating and cooling services and how we can help you by meeting your heating & air conditioning needs, contact us today online or by phone at 314-993-1110.
From Humble Beginnings to a Trusted HVAC Company
The foundation of Galmiche & Sons Inc. was laid by an enthusiastic and pioneering young man, John Edward "Jack" Galmiche. When he first started the business in 1950, the company was operated under the name Galmiche & Sons Heating and Sheet Metal. The company was located on 301 North-Jefferson Avenue, and Mr. Galmiche was the sole employee.
The company primarily focused on gutter installation services in the early years. However, in 1970, John branched out to become an HVAC company. Serving both commercial and residential facilities in the Greater St. Louis area, the company handled the installation, repair, and maintenance requirements of facilities in the St. Louis metropolitan area. In 1974, Jack Galmiche introduced his son Jeffery V. Galmiche to the business; he is currently the President and CEO of the company.
About Our HVAC Company Today
Today, the third generation of the Galmiche family is now in the business, continuing the Galmiche tradition of providing prompt, reliable, and courteous service, which has now become our hallmark. As a full service HVAC company, we offer a comprehensive range of services. Whether you need air-conditioning units repaired or require complete HVAC retrofitting, our experienced HVAC contractors can help. According to our latest estimates, 25% of the annual sales at our HVAC company come from commercial HVAC work. Residential services account for 75% of the total revenue.
What started out as a one man HVAC company now derives its strength and competence from 36 skilled employees. All of our HVAC services are handled by our union workers who are highly trained and committed to delivering excellent results. This includes members of Union Local 36 (sheet metal workers) and Union Local 148 (service engineers).
Our Mission: An HVAC Company Striving to Exceed Expectations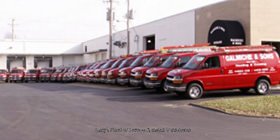 Integrity, competence, and objectivity represent the cornerstones of our business. We are fueled by a dedication to providing top-notch HVAC services. We believe that delivering value added services is an absolutely essential component of any leading business practice. Therefore, our HVAC company aims to deliver more value to you, our customer, by going over and above our call of duty. We not only understand your needs in great detail, but also brainstorm to discover solutions that can address them. When possible, we also provide tips and suggestions that help you maintain your HVAC units or make informed decisions about maintenance and usage of your units. Learn more about what you can expect from our HVAC repair company and why you should choose us.
We are available 24 hours a day, to send technicians to your location, and we are committed to delivering a timely and complete job. We respect each customer's home and property and leave them as clean as we found them.
Contact us for all your HVAC needs – we look forward to assisting you!