Quality heating and cooling services since 1950
Commercial HVAC Services in St. Louis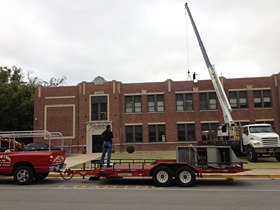 Commercial HVAC systems are responsible for controlling temperature, humidity levels, and flow of fresh air throughout offices and industrial buildings. Therefore, designing and maintaining commercial HVAC systems properly is extremely important for ensuring comfort of any buildings occupants. When you are building a new office building, apartment complex, or other industrial space, it is important to work with professionals who have the experience needed to design and build an effective commercial HVAC system. Additionally, it is crucial to ensure regular maintenance of your HVAC system in order to ensure comfort and prolong the life of the system.
Galmiche & Sons Heating & Cooling is an expert commercial heating and cooling company in St. Louis. We have the expertise and experience to handle small and medium-sized HVAC design, engineering, and construction projects as well as commercial air conditioner repair and furnace repair. Regardless of your commercial HVAC needs, we can help. To learn more about our heating & air conditioning services, contact us online or by phone at 314-993-1110.
Why Choose Our Commercial HVAC Services
At Galmiche and Sons, we are experts when it comes to commercial HVAC in St. Louis. We have a design/build team capable of designing, engineering, and constructing small and medium sized HVAC systems. We are capable of working on new construction projects, remodeling projects, and tenant finish projects. In any project, we will evaluate your needs and design the best HVAC system for you.
Founded in 1950, Galmiche and Sons has earned a position of respect in the industry as a leading commercial HVAC company. We have become a trusted HVAC company because:
We have successfully completed hundreds of commercial HVAC projects for customers in the St. Louis area
We operate a complete sheet metal fabrication shop
We are capable of manufacturing and installing equipment for small and medium sized commercial projects in the area
We are a member of the Sheet Metal Workers Local #36 and the Operating Engineers Local #148
We offer 24 hour service to fit in with your needs and schedule
Commercial HVAC Projects on which We Have Worked
As one of St. Louis' leading expert commercial HVAC companies, we have worked on many projects for commercial clients. From designing, building, and installing equipment for new building to offering commercial furnace repair and preventative maintenance packages, we have handled it all.
Our completed commercial HVAC design and build projects range in price from $10,000 to $750,000. Projects include:
St. Louis Teachers Credit Union - A three story office complex in the City of St. Louis
Tower Centere - A 17,000 square foot retail and office center located in Chesterfield Valley
Stratford Commons Phases I & II - A 115 unit apartment complex in St. Louis County
Trade Center Office Complex - An office center of over 12,000 square feet in Chesterfield
G.M. Training Facility - A tenant finish project in South St. Louis County
Designing the Right Commercial HVAC System
Commercial HVAC systems are typically a long-term investment as they can be very costly to design and install. It is therefore important to objectively consider certain factors before settling on a choice of system. Enlisting the help of a professional commercial HVAC service is almost always a good idea in this case,
Some of the important factors to consider are:
Selecting the right size of unit
Selecting a unit that offers the desired energy efficiency
Designing the HVAC system to efficiently and evenly distribute air throughout the building
Given that a large portion of your energy costs will be related to your commercial HVAC equipment, it is very important to select systems that use energy efficiently while ensuring optimal comfort. Selecting the right size of commercial HVAC equipment is equally important. You do not want to waste energy overcooling an area nor do you want to have uncomfortable hot zones. To learn more about designing a new commercial HVAC system to meet your needs and to request a quote, contact us online or by phone at 314-993-1110.
Commercial HVAC Tips from Our Experts
Learn More About Commercial HVAC Services from Galmiche and Sons
It you would like to learn more about our services for designing, installing, and servicing commercial HVAC systems, contact us at Galmiche and Sons Heating and Cooling today online or by phone. As St. Louis leading experts for commercial heating and air conditioning, we can meet your every need to ensure comfort in your commercial or industrial space.