Quality heating and cooling services since 1950
St. Louis HVAC Experts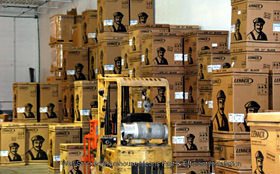 If you are looking for an experienced professional to take care of your St Louis HVAC needs, you can rely on Galmiche & Sons Heating & Cooling. As a heating and cooling company with a history of serving the St. Louis area with quality services for over 60 years, we are an excellent choice for all of your St. Louis HVAC needs. We provide both commercial and residential services, and we can undertake any air conditioner or heater repair, installation, or maintenance project, no matter how big or small.
To learn more about the St. Louis HVAC services we can provide, contact us today by phone at 314-993-1110. You can also request a service call for HVAC maintenance or request a quote for a new HVAC system by completing our online forms.
Complete St. Louis HVAC Services
As a leading HVAC service provider in the St. Louis area, Galmiche & Sons Heating & Cooling provides a wide range of premium St. Louis HVAC services making us a one-stop shop for all of your heating and cooling needs. Our services include:
Commercial HVAC – As part of our commercial St. Louis HVAC services we can design, engineer, and construct new HVAC systems for commercial building and renovation projects. With our own sheet metal fabricating shop in St. Louis, we design and manufacture high-quality ductwork to be used for these projects.
Residential Heating and Cooling – Galmiche & Sons Heating & Cooling can undertake a wide variety of St. Louis HVAC projects for residential homes. From old heating or air conditioner replacement to full system construction, we provide quality service to help optimize the comfort of your home.
Air Conditioner Installation – Air conditioner unit installation is a complicated task that should be completed by an experienced professional. Our St. Louis HVAC services also include installation of all kinds of air conditioning units for homes and offices.
Air Conditioner Repair & Servicing – Galmiche & Sons Heating & Cooling provides expert St. Louis HVAC repair services for both private and commercial customers. Our certified technicians are well trained and experienced in working with different makes and models of air conditioning units. We can provide air conditioner servicing, maintenance, and repair services to keep your air conditioner working properly.
Air Conditioner Sizing – Among our many St. Louis HVAC services, we can also provide you with quality air conditioner sizing service to help you select the best air conditioner for your needs.
Furnaces – Not only are we known for our excellent service in air conditioner repair and installation, our St. Louis HVAC services also include installation, repair, and servicing for furnaces. Whether you need new unit installation, repair work, or even replacements, we are the right people for the job.
Heating and Air Conditioner Maintenance – We offer complete St. Louis HVAC maintenance services wherein we can provide annual maintenance and cleaning services for any heating and cooling system.
Goodman & Lennox Furnaces and Air Conditioners – Aside from being a leading St. Louis HVAC service company, we are also suppliers of high quality, energy efficient, and affordable Goodman and Lennox air conditioning units and furnaces.
Experienced Professionals for Top-Notch HVAC Service
At Galmiche & Sons Heating & Cooling, we have a team of certified professionals with plenty of experience installing and repairing different types of heating and air conditioning units. With our expertise completing many St. Louis HVAC projects, you can count on us to provide you with reliable and professional service and to keep your heating and cooling system operating in optimal condition.
Get Your St. Louis HVAC Problem Fixed Today
Does your air conditioner fail to create a comfortable living environment in your home? Do you often experience problems with your furnace? Are you in need of a new heating and cooling system? Contact the St. Louis HVAC and heating & air conditioning experts at Galmiche & Sons today to learn more about how we can help.