Quality heating and cooling services since 1950
Your Heating and Air Conditioning Experts in St. Louis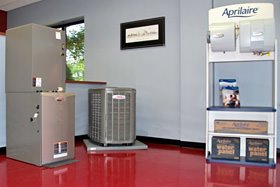 At Galmiche & Sons Heating and Cooling, we have been in the heating and air conditioning business since 1950. We offer a complete range of heating and air conditioning services in the St. Louis area for residential homes and businesses alike. From installing heating and air conditioning systems to maintenance and repair, no job is too big or small.
If you need heating and air conditioning services in the St. Louis area, then look no further than Galmiche & Sons for all of your HVAC needs. Galmiche & Sons Heating & Cooling is one of St. Louis' most experienced commercial and residential HVAC companies. Contact us online or by phone at 314-993-1110 to learn more about the premium heating and air conditioning services that we offer to clients in the Greater St. Louis metropolitan area.
Our Complete Heating and Air Conditioning Services
With over six decades of HVAC industry experience, Galmiche & Sons offers a wide array of heating and air conditioning services to clients in the St. Louis area. We offer affordable and competitive pricing and our technicians are factory trained and certified to provide the highest level of service. No matter what your needs, we can offer customized heating and air conditioning solutions. We treat your home and business as if it was our own with the care and respect you expect to get from professionals.
Some of the main services that we can provide include:
Heating and Air Conditioner Replacement and Installation – We can inspect and evaluate your old unit, and if we find that repair is not a viable or cost effective option, we can replace the heating or cooling unit for you. We specialize in helping you select the right unit for your home or business.
Air Conditioner Repair – Air conditioners often require basic repairs and cleaning in order to keep them operating at peak levels. We can provide regular annual maintenance and cleaning, and we can inspect your air conditioning unit and advise you on repairs required. If repairs will be more costly, we honestly let you know that a more efficient replacement will save you money on operational costs in the long run.
Furnace Repair & Maintenance – Furnaces require regular maintenance and repairs to make sure they are clean and safe to operate. A dirty furnace can cost you almost twice as much to run as a clean working heating unit, while also offering less efficient heating. We can inspect your furnace for you, diagnose issues, and make necessary repairs for optimal operation.
Contact Galmiche & Sons for All Your Heating and Air Conditioning Needs in St. Louis
At Galmiche & Sons, we can take care of all your heating and air conditioning needs. For a free, no obligation quote and inspection of your heating and air conditioning system, contact us today. Our heating and cooling experts can advise you on repairs or if your unit is beyond repair, offer you the best and most affordable replacement option.
For the best in heating & air conditioning service in the St. Louis area, contact Galmiche & Sons at 314-993-1110 or use our online contact form and learn how we can help.